Biological Heart Valve Prosthesis
| | | |
| --- | --- | --- |
| | | |
Flexible polymeric stent combined with superelastic Nitinol stent to enhance prosthesis durability. The valve is designed for mitral and tricuspidal heart valves replacement.
The valve has been used in clinical practice since 2008.
Overview
UniLine Atrioventricular biological heart valve prosthesis is a stented valve with xenopericardium leaflets, designed for supra-annular implantation in the mitral or tricuspid position.
Design and Materials
Valve design features an assembled frame, comprising polypropylene form and Nitinol wire, covered with pericardium. Valve frame biological tissue coating allows to perform special treatment of the entire device surface.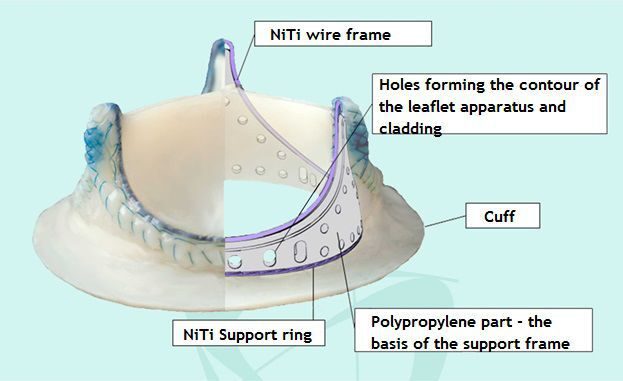 Valve leaflets are made of bovine pericardium. Pericardium is preserved, sterilized and cross-linked with ethylene glycol diglycidyl ether. UniLine Valve is supplied sterile.
Leaflets Precision Manufacture
- High precision leaflet laser-cutting prevents any separation of collagen fibres along the edge;
- Leaflet fabrication computer technology featuring pericardium thickness detection prior to cutting provides consistent quality of each prothesis' leaflet apparatus. Maximum thickness homogeneity of the leaflet apparatus facilitates even stress distribution across the entire leaflet surface;
Final Quality Inspection
- Each TiAra Valve is tested with hydrodynamic testing system to ensure compliance with requirements, specified in GOST 31618.1-2012 Cardiac valve prostheses. General technical requirements and test methods. Hydrodynamic parameters, i.e. EOA, transprosthetic gradient and regurgitation are recorded in order to give this data to the surgeon via an identification card each valve is supplied with.
For surgeons' convinience each prosthesis is supplied with a valve holder for implantation procedure.
Product Specifications
Valve size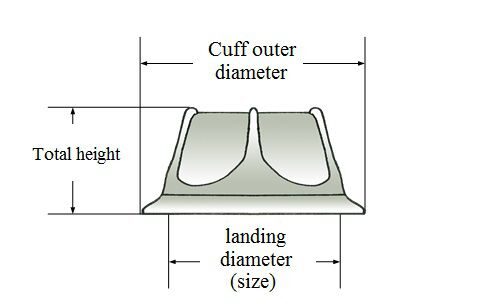 Table 1 - Valve size
Bore Diameter (size),

mm

Sewing Ring O.D., mm

Height,

mm

26.0±1

38.0±1.5

15.5±1.5

28.0±1

40.0±1.5

16.0±1.5

30.0±1

42.0±1.5

16.5±1.5

32.0±1

43.5±1.5

17.5±1.5
UniLine bioprostheses performance specifications, obtained upon bench tests (manufacturer's data)
Parameter

Bore Diameter (size), mm

26

28

30

32

Flow Rate, cm3/cycle

154.8±3.12

160.8±9.84

179.4±4.44

188.4±5.52

Regurgitation, cm3/cycle

2.41±0.74

3.06±0.93

3.03±0.65

3.94±0.68
UniLine Atrioventricular bioprostheses' hemodynamic performance based on prosthesis diameter
Parameter

Bore Diameter (size), mm

26

28

30

32

EOA (cm2),

min-max

1.80±0.01

1.79-1.81

2.3±0.02

2.28-2.32

2.73±0.02

2.71-2.75

2.76±0.03

2.73-2.79

Max ∆P, mm Hg,

min-max

12.3±4.2

5.0-16.6

10.8±2.9

4.9-15.8

9.36±1.5

7.0-11.0

7.2±2.5

5.0-12.0

Mean ∆Р, mm Hg,

min-max

4.86±2.3

3.0-10.0

4.1±1.4

2.1-7.0

4.0±1.2

3.0-6.0

3.9±0.9

3-6.5
Note: EOA - effective orifice area, max ∆P - maximum atrioventricular valve gradient, mean ∆P - mean atrioventricular valve gradient; upper line reads mean values, lower line reads minimum and maximum values.
Biological Tissue Treatment
Additional Treatment
- Anticalcification treatment. Standard treatment performed if no treatment method was specified in the order.
(Article: Use of aminodiphosphonates for prophylaxis of calcification of epoxy-treated bioprostheses)
- Antithrombotic treatment. Performed if relevant treatment method was specified in the order.
- Antibacterial. Performed if relevant treatment method was specified in the order.
(Article: The new generation of heart valve bioprostheses with high thromboresistance and antibacterial activity)
By design each manufactured NeoCor bioprosthesis for cardiac surgery features anticalcification treatment for patients, whose bioprostheses are prone to calcification (treatment of congenital heart disease in children and acquired heart disease in adults under 50). Use of aminodiphosphonates leads to statistically significant calcium-binding activity decrease, whilst having no negative effect on biological material structure or physical and mechanical properties.
At surgeons' request bioprostheses are treated with heparin to reduce the risk of clot formation. When performing a procedure in the setting of infective endocarditis it is advisable to order and apply NeoCor bioprostheses featuring antibacterial treatment.
When placing an order, please specify if any additional bioprosthesis treatment is required.
Ordering Information
To place an order, please submit your requisition via email neocor@neocor.ru or use the website contact form.
You may consult our Sales Department for NeoCor medical devices by phone 9 AM to 5 PM (Moscow time +4)
Valve Models:
Bore Diameter, mm (permissible deviation ±1.0)
Reference No

26

ULA26b(s)

28

ULA28b(s)

30

ULA30b(s)

32

ULA32b(s)

When placing an order, please specify:

Sewing Ring Type

b - Biological

s - Synthetic

Treatment Method

- Anticalcification (standard);

- Antithrombotic;

- Antibacterial.
The package consists of the following items:
Description

Amount, pcs.

UniLine Valve

1

Implantation Holder

(Handle and holder)

1

Individual Package with Storage Solution

1

Instructions for Use

1

Identification Card

1