Biological Aortic Heart Valve Prosthesis
Exhibits best stented and stentless valves' qualities. It features ease of implantation and native aortic valve biomechanics, excellent choice for small aortic root.
It has been used in clinical practice since 2018.
Overview
TiAra aortic valve is a stented valve with bovine pericardium leaflets, designed for supra-annular implantation in the aortic position.
Design and Materials
Valve design features a flexible stent made of superelastic nitinol wire, covered with bovine pericardium. Valve stent biological tissue cover allows to perform special treatment of the entire surface.
Valve leaflets are made of bovine pericardium. Biological material is preserved, sterilized and cross-linked with ethylene glycol diglycidyl ether. TiAra Valve is supplied sterile.
The valve manufacture includes anti-calcification treatment of biological tissue surface.
Leaflets Precision Manufacture
- High precision leaflet laser-cutting prevents any separation of collagen fibres along the edge;
- Leaflet fabrication computer technology featuring pericardium thickness detection prior to cutting provides consistent quality of each prothesis' leaflet apparatus. Maximum thickness homogeneity of the leaflet apparatus facilitates even stress distribution across the entire leaflet surface;
Innovative Design
- Single loop wire stent made of superelastic alloy;
- Radio-opaque stent material enables post procedural valve position evaluation;
- Valve design facilitates Valve-in-Valve transcatheter aortic valve implantation in the long run;
- Valve leaflet apparatus and stent cover consist of biomaterial - KemPeriplas-Neo xenopericardium;
- Elastic suture material mitigates stress carried by prosthesis parts.
Superelastic Materials for Durability
- Nitinol cover ensures proper elasticity and reliability while maintaining natural biomechanics of the reconstructed valve;
- Use of biomaterial - KemPeriplas-Neo xenopericardium - enhances bio-compatibility, resistance to calcification and infections, and boosts hemodynamic parameters.
Unique Biomechanics
Bioprosthesis might creep during the cardiac cycle in accordance with recipient's aortic root deformations. Besides it does not lead to stenotic effect, as opposed to traditional stented valves.
Shorter Implantation Time
Subcoronary implantation technique with single-row suture facilitates bioprosthesis implantation and reduces the main phase of surgery by 15-30 minutes.
Final Quality Inspection
- Each TiAra Valve is tested with hydrodynamic testing system to ensure compliance with requirements, specified in GOST 31618.1-2012 Cardiac valve prostheses. General technical requirements and test methods. Hydrodynamic parameters, i.e. EOA, transprosthetic gradient and regurgitation are recorded in order to give this data to the surgeon via an identification card each valve is supplied with.
For surgeons' convinience each prosthesis is supplied with a valve holder for implantation procedure.
Product Specifications
Valve size and weight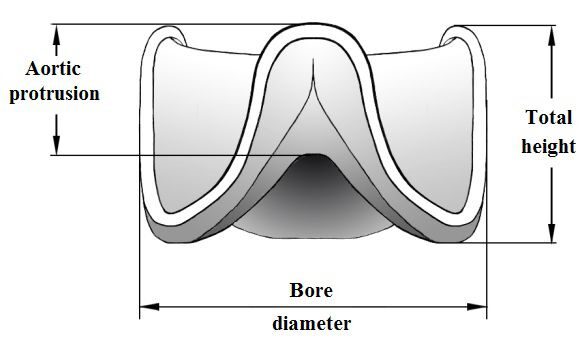 Valve Model

Bore

Diameter (size), mm

Height, mm

Aortic

Protrusion, mm

Weight, g

(max)

«ТiAra» - TA19

19.0+1.0

16.6+1.5

10.1+1.0

2.1+0.5

«ТiAra» - TA21

21.0+1.0

17.8+1.5

10.1+1.0

2.3+0.5

«ТiAra» - TA23

23.0+1.0

19.0+1.5

10.1+1.0

2.5+0.5

«ТiAra» - TA25

25.0+1.0

20.2+1.5

10.1+1.0

2.6+0.5
TiAra bioprostheses performance specifications, obtained upon bench tests (manufacturer's data)
Parameter

Bore Diameter (size), mm

Tolerance

Band

19

21

23

25

Effective Orifice Area, cm2

1.78-2.44

2.22-3.04

2.66-3.70

3.17-4.42

<0.05

Mean ∆Р, mm Hg, min-max

6.1-14.6

5.5-13.6

5.4-12.8

5.1-12.3

<0.05

Regurgitant Fraction, %

6.7-10.1

6.5-10.3

6.1-10.5

6.6-9.8

<0.05
Biological Tissue Treatment
- Anticalcification treatment.
(Article: Use of aminodiphosphonates for prophylaxis of calcification of epoxy-treated bioprostheses)
TiAra bioprostheses feature anticalcification treatment for patients, whose bioprostheses are prone to calcification (treatment of congenital heart disease in children and acquired heart disease in adults under 50). Use of aminodiphosphonates leads to statistically significant calcium-binding activity decrease, whilst having no negative effect on biological material structure or physical and mechanical properties.
Ordering Information
To place an order, please submit your requisition via email neocor@neocor.ru or use the website contact form.
You may consult our Sales Department for NeoCor medical devices by phone 9 AM to 5 PM (Moscow time +4)
Valve Models:
Bore Diameter, mm (permissible deviation ±1.0)

Reference No

19

TA19

21

TA21

23

TA23

25

TA25

Treatment Type:

- anticalcification
The package consists of the following items:
Description

Amount, pcs.

TiAra Valve

1

Implantation Holder

(Handle and holder)

1

Individual Package with Storage Solution

1

Instructions for Use

1

Identification Card

1

Outer Package

1

Outer Package Leaflet

2